RONNIE BURKETT
A Passion For Puppetry
Ronnie Burkett has been captivated by puppetry since the age of seven, and began touring his shows around Alberta at the age of fourteen. Ronnie Burkett Theatre of Marionettes was formed in 1986, continuously playing on Canada's major stages, and as a guest company on numerous tours abroad.
Ronnie received the 2009 Siminovitch Prize in Theatre, The Herbert Whittaker Drama Bench Award for Outstanding Contribution to Canadian Theatre, a Village Voice OBIE Award and four Citations of Excellence from the American Center of the Union Internationale de la Marionnette.
The Daisy Theatre is the thirteenth production from Ronnie Burkett Theatre of Marionettes, following the international successes Penny Plain, Billy Twinkle, 10 Days on Earth, Provenance and the "Memory Dress Trilogy" of Tinka's New Dress, Street of Blood and Happy. In June 2019, Ronnie Burkett Theatre of Marionettes will premiere a new audience-interactive production, Forget Me Not.
Ronnie Burkett Theatre of Marionettes is represented globally by John Lambert & Assoc.
20  Video Interviews Of Ronnie Burkett…
CURRENT PRODUCTION
The Daisy Theatre is Breaking Down the Fourth Wall
The Daisy Theatre is the thirteenth production from Theatre of Marionettes. Every Ronnie Burkett production is ground breaking, but The Daisy Theatre breaks down the fourth wall as well. With more audience participation than ever before, the integration of the audience makes every night of the production different than the night before.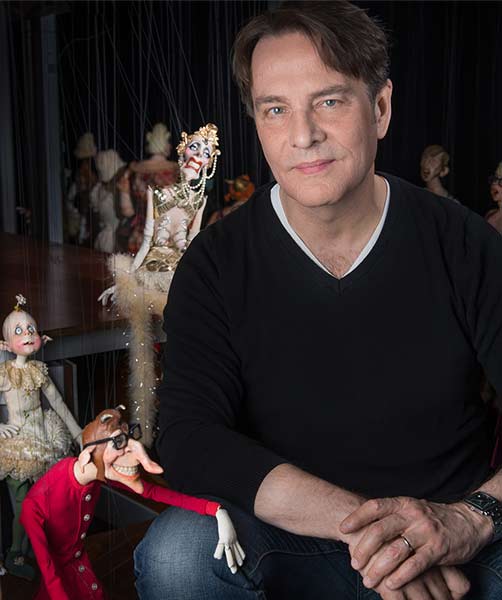 THE DAISY THEATRE
nightly improvisation, variety acts and music, monologues and morality tales, all with the resident company of over thirty marionette characters
The Daisy Theatre is puppeteer Ronnie Burkett unleashed…unscripted, by the seat of his pants, manipulating and voicing his characters through variety acts, impromptu monologues, musical numbers and audience participation, featuring a cast of forty marionette characters. Since its premiere at the 2013 Luminato Festival,  this unique performance event has played to thousands, with audiences and critics alike falling in love with the ridiculous, tender, outrageous antics of Daisy Theatre favorites Esme Massengill, Mrs. Edna Rural and beloved fairy child Schnitzel. Variety numbers parody theatrical genres from opera, music hall, Las Vegas, French cabaret and vaudeville with characters such as lounge singer Rosemary Focaccia, marionette ventriloquist Meyer Lemon, chanteuse Jolie Jolie, and "Canada's oldest and worst actress" Miss Lillian Lunkhead, in what Vancouver's Georgia Straight calls "one of the best shows you'll ever see". With the ever-changing content and nightly improv in an intimate setting, The Daisy Theatre is truly a "see it more than once" theatrical experience.
THE DAISY THEATRE was co-commissioned by The Luminato Festival (Toronto) and the Center for the Art of Performance at UCLA (Los Angeles)  in association with Ronnie Burkett Theatre of Marionettes (Toronto)
INFO ON PRODUCTION
NEWS ARTICLES: FULL REVIEWS
NEWS ARTICLES: FULL REVIEWS continued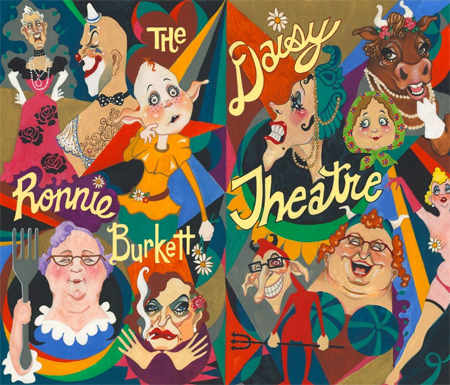 RONNIE BURKETT'S RETIRED PRODUCTIONS
Penny Plain
These are the End Times: Climate change and a related mutating virus are decimating mankind . The one island of calm in all this turmoil is the boarding house run by the blind woman Penny Plain. The cast of characters parade in and humor, no matter how dark ensues…


For anyone stuck in the middle – mid-career, mid-love, mid-life – caught between our own past and future, this requiem for a golden boy shines a little light on the wonder of youth meeting the wisdom of age with a kick in the pants to finish what we started.


Darrel is a simply simple middle-aged man who lives with his mother. When she dies in her sleep, Darrel does not realise she is gone, and so, for ten days, he lives alone. 10 Days On Earth asks: If you were alone, but didn't know it, would you feel lonely?
PROVENANCE
Set in Vienna, Provenance explores beauty: our obsession with it, our fantasies about it, our addiction to it and our ownership of it. 

Happy introduces us to the engaging title character, a "happy-go-lucky" veteran and pensioner who wanders through episodes of grief in other people's lives. Writer and performer Ronnie Burkett examines the impact of cataclysmic sorrow in human existence


 Based on the illegal puppet shows staged in Nazi-occupied Czechoslovakia, Tinka's New Dress examines propaganda versus truth, compliance versus censorship, and the collective society versus the individual.


Edna Rural, a "good woman" from the prairies who does her duty both in church and in the home, by raising — and painfully accepting — a son, Eden, who turns out to be homosexual, burying a husband who contracted AIDS from tainted blood and finally acknowledging out loud her own status as HIV positive.
"Puppetry is always thought of as for kids, and cute, little, soft, talking animals. And so I've spent the better part of two decades trying to wrest the form from that preconception."
"For me, the true monsters have always been my own species. Right from the start I've always been interested in shrinking people down to take a closer look."
"I am a good sponge. I watch what is going on around me and then I use it."