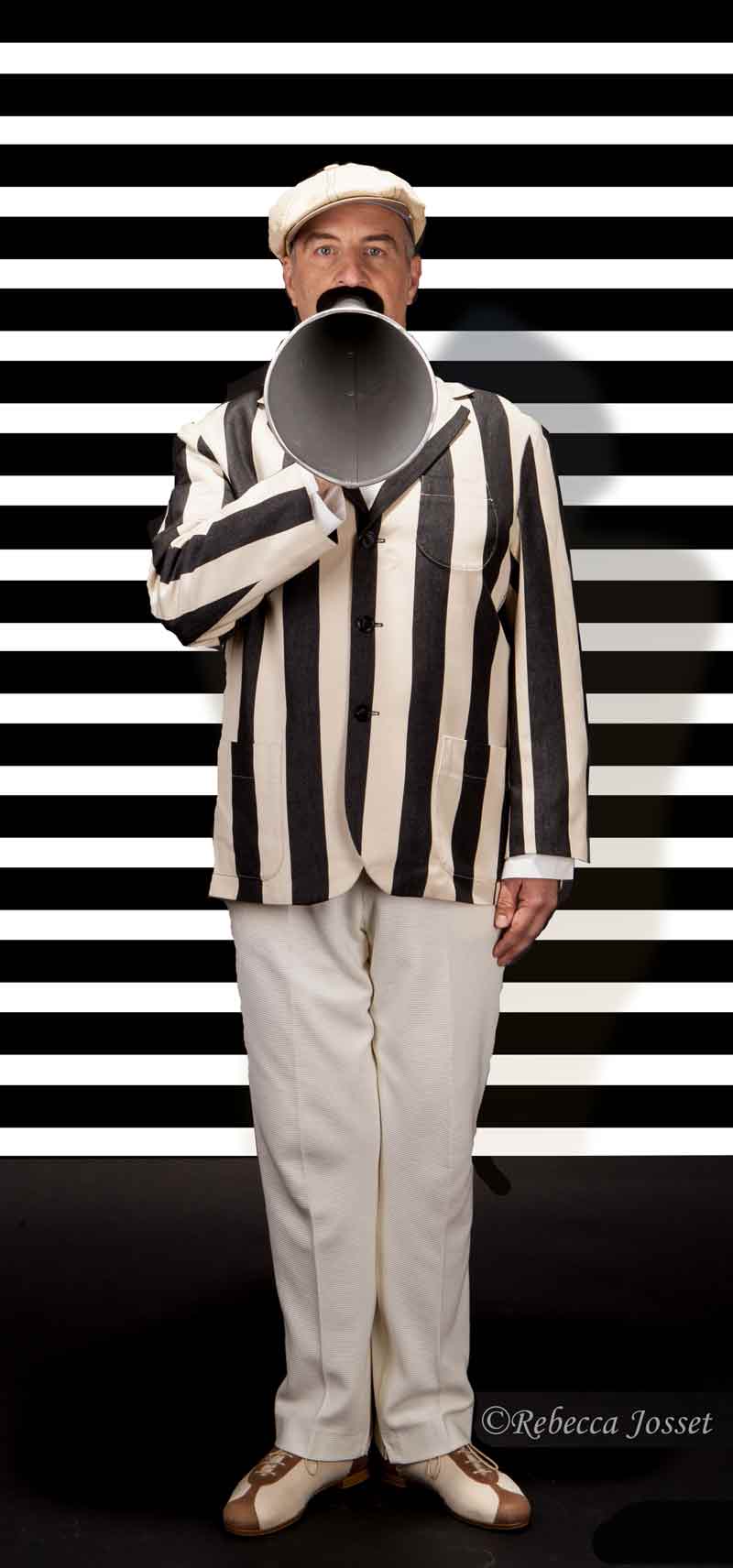 PATRICE THIBAUD
actor, writer, director, comedian and mime
After ten years of experience and collaboration with cabaret and theatre companies, in 1994 he meets Michèle Guigon with whom he performs Duo, Histoire d'Amourire.
In 1995, Christian Schiaretti invites him to become a full time member of his theatre company at the Centre Dramatique National de Reims. He spends the next five years with the company, during which he experiments various theatrical styles. He makes his mark notably in Ahmed Philosophe by Alain Badiou, Polyeucte Martyr by Corneille and Les Visionnaires by Desmarest de Saint-Sorlin.
In 2001 he meets Jérôme Deschamps and Macha Makaïeff. With them, he performs in the theatre pieces: La Cour des Grands, Les Etourdis and Les Soirées Tati and in Mozart's opera The Abduction from the Harem and Chabrier'sopera L'Etoile. I
n July 2006, at the insistant request of the International Festival of Salzburg, he devises and presents with Philippe Leygnac a 20 minutes musical mime show for the opening ceremony which is broadcast live on Austrian television.
From 2004 to 2006, he appears daily on Stéphane Bern's show 20h10 Pétantes on Canal +, where he presents original mime sketches. In 2007, we find him on the TV channel M6 where he writes and presents Michelle and Michel, a shopping-channel show spoof. He can be seen in the cinema in Asterix at the Olympic Games and  Yves Saint Laurent.
In 2008at the National Theater of Chaillot in Paris, he created COCORICO and then in 2011 JUNGLES. Patrice then became an associate artist at the Comet / Scène Nationale in Chalons-en-Champagne, where he created COIL APE and FAIR PLAY (2012). In 2015 he created FRANITO at the Théâtre de Nîmes, Scène Conventionnée pour la Danse Contemporaine.
Since 2009, Patrice has been creating shows and performances for the Louvre and Quai Branly Museum (The True story of Tarzan , The Mystery of the da Kachina doll ). In May-June 2009 Patrice also created three "surprise visits" to be performed during the exhibition on Jacques Tati at the Cinématheque Française.
Patrice Thibaud is represented in North America and the Asia-Pacific Region by John Lambert & Assoc.
CURRENT PRODUCTION
FRANITO
To escape the smothering love of his overbearing mother, the little Fran takes refuge in his passion for flamenco.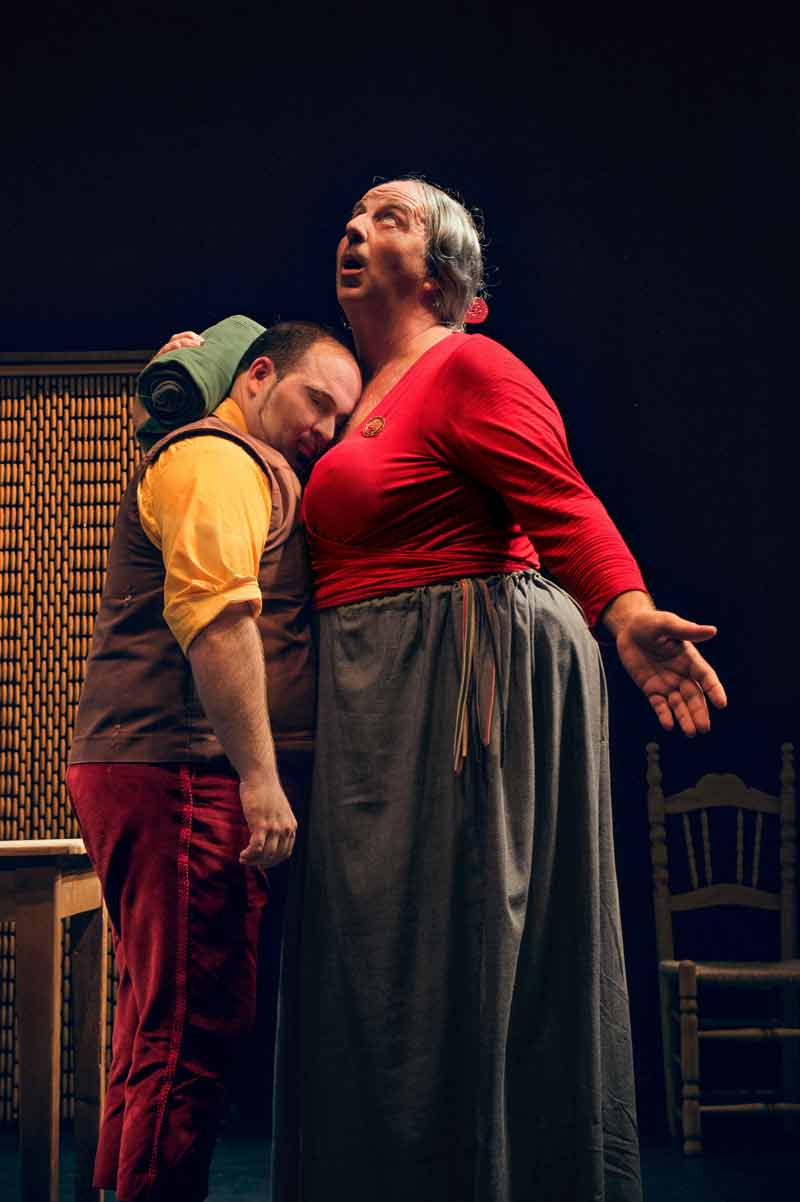 FRANITO
Burlesque Flamenco
FRANITO is Patrice Thibaud's fourth show that materialized from his meeting with the flamenco dancer, Fran Espinosa, and flamenco guitarist, Cédric Diot, both of whom were also performing in Don Quixote de Trocadero by José Montalvo. Under the direction of Jean-Marc Bihour, director of Fair-Play, an earlier production of Patrice, FRANITO was born at premiered at the Théâtre de Nîmes in December 2015. In this production, Patrice Thibaud has focused his comic genius on scenes of a Spanish mama and her son, a flamenco prodigy. Patrice Thibaud plays the Spanish mama and Fran Espinosa is Franito, an obedient lad whose feet just won't stay still. To escape the smothering love of his overbearing mother, the little Fran takes refuge in his passion for flamenco.
FRANITO is a mix of music, theatre and dance and is as much about what it sounds like as what it looks like….the sounds of feet striking the floor, flamenco "palmas", snapping fingers, guitar and passionate vocals. For mother and son, everything serves their invention: broom, kitchen table and chair, garbage can lid, as the extravagant dances and songs flow one after the other and the laughter never lets up.
CURRENT PRODUCTION
COCORICO
A wordless mime extravaganza about opposites subjecting each other onto the other's last nerve.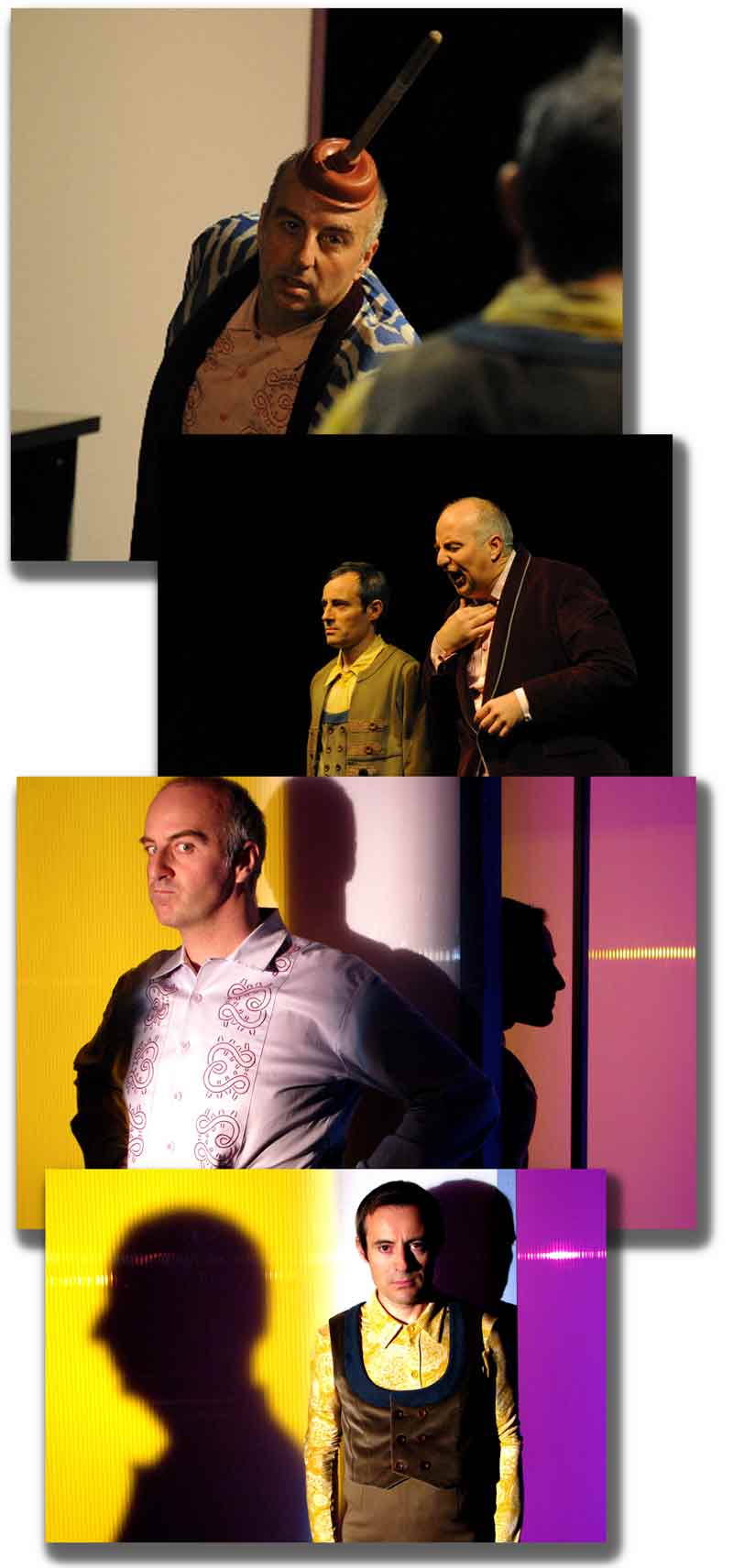 COCORICO
 A STORY OF PATHS CROSSED
Patrice Thibaud and Philippe Leygnac could be the French Laurel and Hardy. One is clumsy and a little shy. The other is skilful and lively. Without a word, they gauge, they get upset, they run away and come back again. When apart both play and dream, their imaginations cross the spectrum, like the Tour de France, aParade on July 14th, majorettes, fireworks, sea lions, cowboys or trappers of wild beasts.
Cocorico is a show based on the physical virtuosity of Patrice Thibaud and his sense of observation, which evokes with humor and poetry our hopes and defects, our habits and our perdition, our maniasAnd our tenderness. Musical devil, the duet between a child who has grown too fast and a musician. Explosive, and reminiscent of Charlie Chaplin, Buster Keaton and Jacques Tati.
A piano, three panels, few accessories; Cocorico is a show without words, while funny and delicious, the characters utilize intense body play while bouncing to the music, the invention of each character and the imaginary spectators of all ages, winning them in a jubilant delirium.
Patrice Thibaud and Philippe Leygnac deliver a production that is wonderfully funny, evocative and endlessly surprising. The chemistry of this duo has a poetic beauty as, with sidesplitting interaction, they conjure up instantly recognizable characters and comic situations, all in a blink of the eye. The audience not only laugh uproarously at the antics unfolding before them but perhaps more accurately, they have their hearts irresistibly won over. Thibaud the comic genius and Leygnac the musical wonderkind are both impeccably trained in their art and communicate a world of ideas and emotions via their nuanced physical comedy and inventive musical score.
Doubly rewarded with a Herald Angel at the Fringe Festival in Edinburgh (2009) and an Award in Montreux Comedy Festival (2012) as the best visual show, Cocorico has been played more than 450 times on world tours.
INFO ON PRODUCTION
COCORICO FULL REVIEWS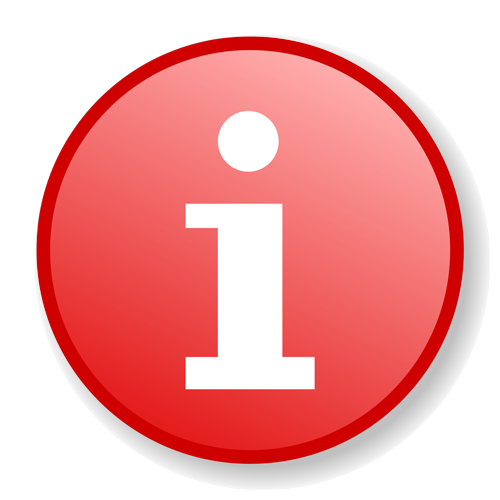 CURRENT PRODUCTION
FAIR PLAY
A Couple of Athletic Supporters…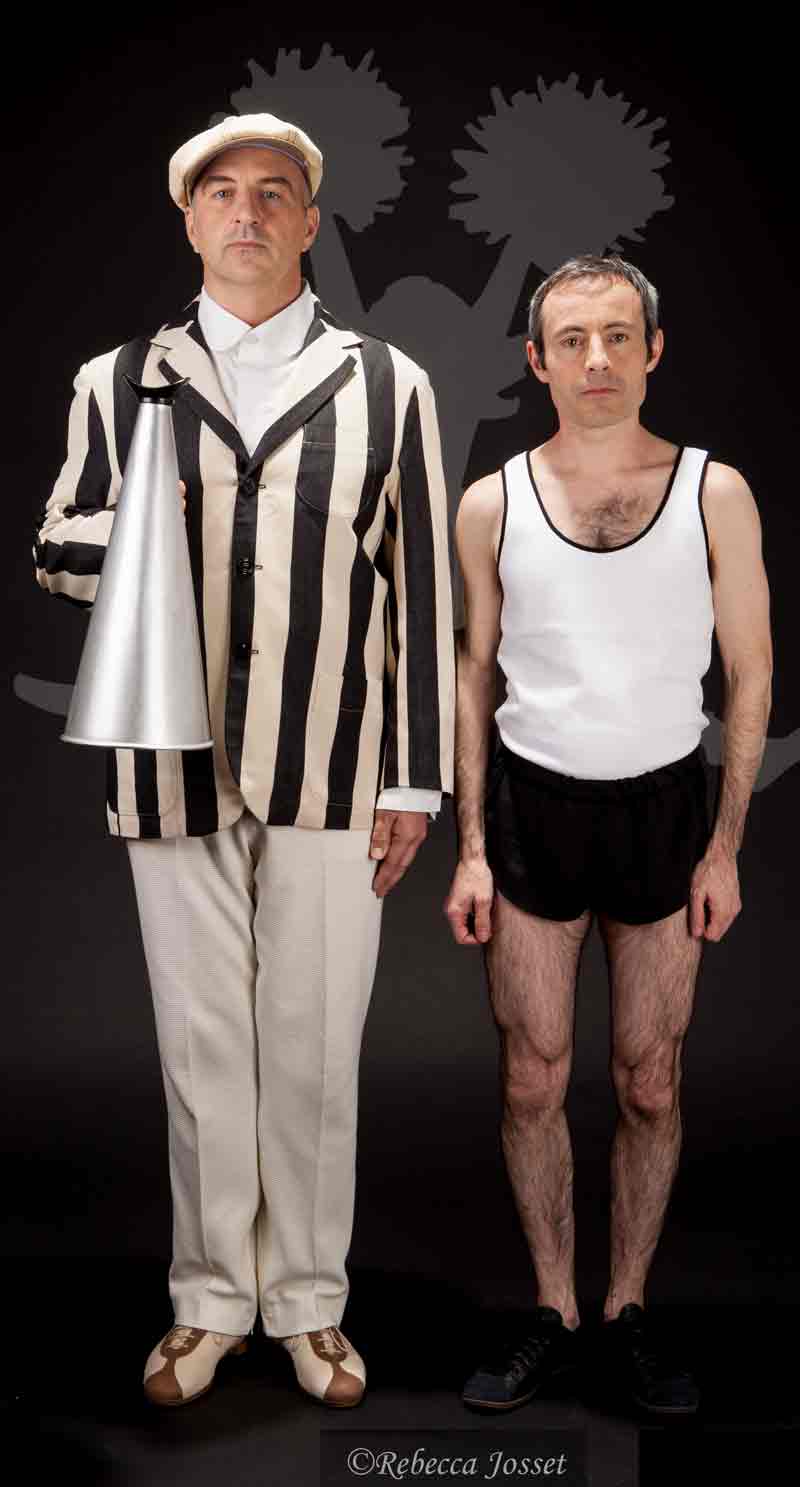 FAIR PLAY
Stretching the body and humor to its limits.
On the stage : the human form, the body. And everything that it can do. Performances, poignant movements to attain the sublime. A body to be strengthened, to be unfolded. Warming up, stomach muscles, buttocks, and running races. Gym, weightlifting and combat sports. The stage becomes a boxing ring, an athletics track or a football pitch. The body goes here and there, in sport mode, febrile. With a grotesque desire for superiority it aims at the highest level of the podiums where the status of strongest man in the world is still being disputed. He plays in a team to be the fi rst. He seeks rising adrenalin levels. The actor in Fair Play focuses on the steel of the sport mentality, its horse-like perseverance or the gracefulness of the movement of a body that goes beyond its natural capacities. Going beyond oneself.
He is a mime artist, a dancer and an author. A magnifi cent actor for Jérome Deschamps and Macha Makeïeff , he has rendered whole theatres helpless with laughter by crossing the stage on horseback or impersonating a model offi ce worker. A serious actor for Christian Schiaretti and a sparkling clown with Les Deschiens, Patrice Thibaud now makes his own shows that travel all round the world. After Cocorico and Jungles, the artiste associated with the Théatre de Nimes / theatre designated for contemporary dance, has devised a hilarious choreography of the world of die-hard exploits. He possesses something of Jacques Tati and Charlie Chaplin; he has the grandeur of the supple clowns who both love and mock their fellows. Music by Philippe Leygnac accompanies the athlete's prowess during his various matches, world records and team sports. A caustic homage with tender tableaux of human ridiculousness, Fair Play plays on sports iconography like a virtuoso lover.

A WORD FROM PATRICE THBAUD
"Sport is universal, bears emotions and brings peoples together. Like music or pantomime. I have chosen to combine all three. Accompanied by Philippe Leygnac once again, this show for all ages examines sport and its mentality in a humorous, off -beat manner. Pantomime requires rigour in the movement and awareness of the body, the tools of my trade, and sensations are the same on a playing fi eld and on a stage: an adrenaline burst before the start of the game and then anything can happen before the fi nal whistle. Put the body, movements, feelings and frustrations of a sportsman to music. Have a tender, poetic and critical approach to the dreams of glory, steel-mindedness, physical capacity and strength of sportsmen and also to their weaknesses and sometimes their ridiculousness. Why feel a need to do better, to push back the limits and to be the best? Why defend a challenge, a match, a time or a record as if one's life depended on it? Perhaps, as in these children's games, it is to be the strongest in the world, if only for a day.
And then?
Georges Orwell wrote that 'Serious sport has nothing to do with fair play', considering it to be '…bound up with hatred, jealousy, boastfulness, disregard of all rules …'. Curiously, these features are found in the world of the burlesque. As the title suggests, following the quotation from Orwell, Fair Play focuses on the sporting spirit and fair play. It shows a host of examples of bad behaviour and pretentions and mocks ruined careers and failures. This might bring to mind Jacques Tati's Impressions sportives or Charlie Chaplin's The Champion. Fair Play is two figures on a stage, facing the audience—like two athletes facing the grandstand —but where the only prize is not a medal but the laughter of everyone, big and small. "
"[Thibaud and] his faithful friend Philippe Leygnac dissect athletes' strengths and weaknesses, struggling careers and overambitious goals with tenderness and causticity."
""Patrice Thibaud […] puts sport through the mill to hilarious and offbeat effect. After 'Jungles' and 'Cocorico', the disciple of Tati and Keaton again strikes a note of excellence all without words with his friend and musician Philippe Leygnac."
"Sheer visual craziness!"
"This show is a fireworks display of visual invention, laughter and poetry. What a joy!"