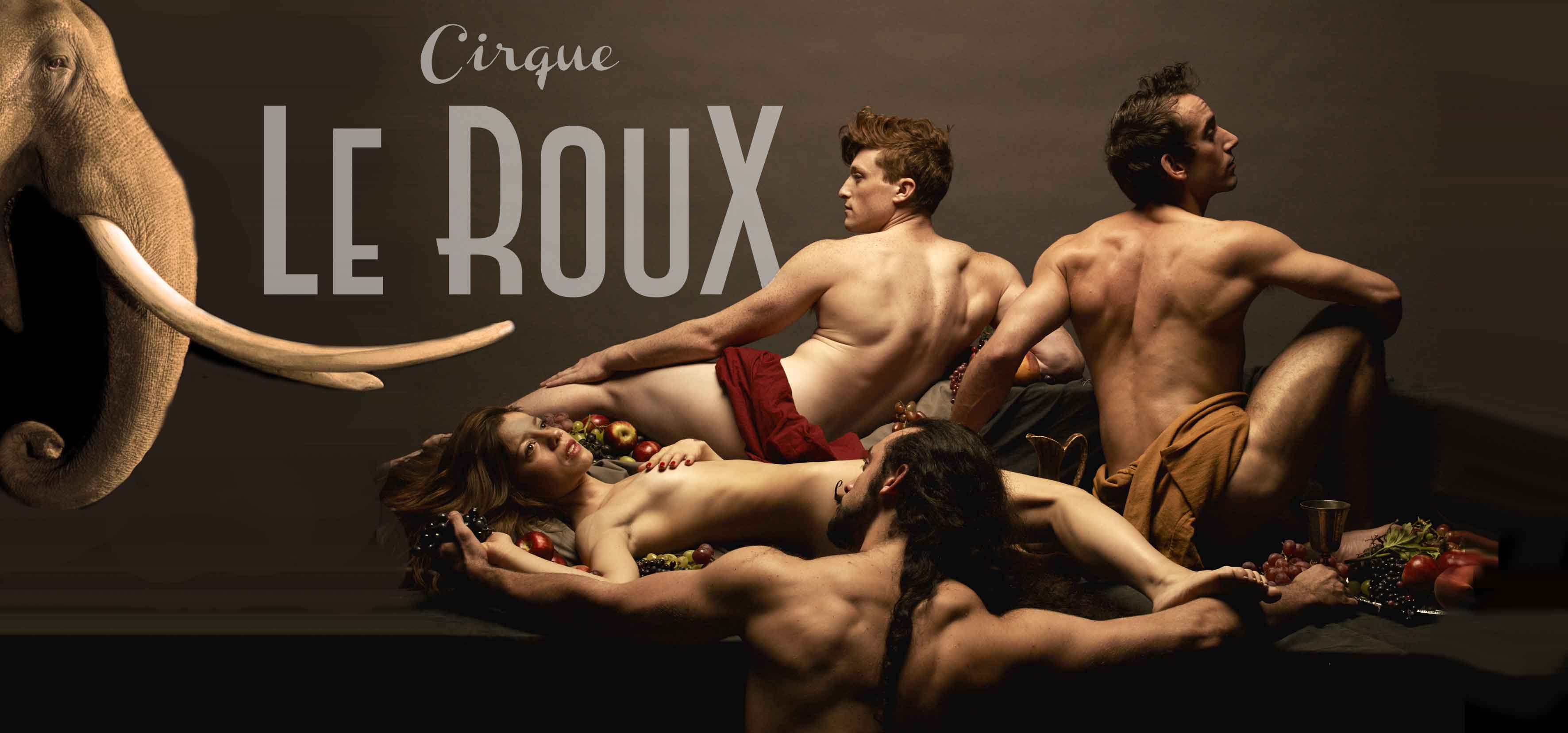 Cirque Le Roux is the union of for passionate artists wishing to bring their vision to the world of Circus arts. Philip, Yannick and Gregory study at the national Circus school of Montréal and Lolita at the ES AC College of Circus arts in Brussels.
They have traveled across the world with The 7 Fingers, Circus Monti, Vague du Cirque, numerous German varieties and have won two bronze medals at the Festival Mondial du Cirque de Demain in Paris (France) and the Sol y Circo Festival (Germany). In 2013, the four performers took part in the original cast of the Broadway musical revival of PIPPIN, which received four Tony Awards including "Best Revival of a Musical".
In January 2014, they shifted their focus towards creating their own company, Cirque Le Roux. Their first show, The Elephant in the Room, opened in 2015 at La Criée, the National Theatre of Marseille, as a part of the Biennial International Circus Arts Festival. Since its world premier, The Elephant in the Room has played in more than 10 countries, including the Udderbelly Festival in Hong-Kong, Salzburg Winterfest, the Montreal Complètement Cirque, Bobino in Paris, and a sold-out run at the Edinburgh Festival Fringe where it was nominated for a Total Theatre Award.
Cirque Le Roux is represented in North America, Latin America and the Asia-Pacific Region by John Lambert & Assoc.
CURRENT PRODUCTION
The Elephant In The Room

Deliciously retro and absolutely original, Cirque Le Roux delves into a smoky monochrome world of Circus arts, Hollywood film noir and physical theater. Welcome to the luxurious estate of Miss Betty and autumn 1937, between her desperate husband, a fumbling valet in a lustful admirer, Our hostess slips away from her wedding reception into a secluded smoking lounge. Cigars, whiskey, slapstick and remarkable acrobatics culminate into a turbulent amorous intrigue. In the months the darkly decadent ambience obscured by quarrels and false pretenses, is an elephant in the room is taking up more and more space…
Cirque Le Roux stirs up a dose of wit and eccentricity, seamlessly blending storytelling with high-level acrobatics. The four artists perfect everything from costumes to set design, peerless circus numbers to the mysteries of love, friendship and the obvious truths we choose to ignore.
"The Elephant in the Room, an exquisitely crafted whodunnit farce of tell-tale acrobatic excellence."
"…this is an intelligently conceived, stylish crowd-pleaser that also pushes theatrical boundaries."
"The production is slick and full of very funny moments. Slapstick movements are very well choreographed and each performer has an unbelievable control of their body, ensuring that each move is absolutely precise."