Recently featured at the 2016 Biennale de la Danse in Lyon, FRANITO by the renowned French comic actor Patrice Thibaud will be featured at the Théâtre National de Chaillot in Paris from November 18th through 25th, 2017, as part of an extensive European tour. See Touring Calendar
FRANITO is the fourth show by Patrice Thibaud and an absolute delight as he teams up with flamenco sensation, Fran Espinosa of the José Montalvo Dance Co. A self-taught comedian, formerly of the group Deschiens, Patrice transforms himself into the overbearing Spanish mother of a flamenco prodigy. A few accessories in a small Andalusian kitchen, the beaded curtains, two chairs, a table, a broom and a folding screen set the scene, while the miming talent of Patrice Thibaud and Fran Espinosa's dancing do the rest. It's a festival of mimicry and facial expressions, each more ridiculous than the next, and day-to-day situations imbued with burlesque and flamenco, naturally. 
FRANITO is like its creator: hilarious.
Masquerading as a heavy-breasted mama in her house slippers, Thibaud's heft is a counterpoint to Franito's lightness and we can't help but succumb to her charm despite her decidedly bad temper. As for Franito, he spins and sings, in his turquoise socks and shiny red shoes, withstanding the onslaught of his partner. The two make quite a pair and have composed their duet full of arcs and curves, the one whirling about, and the other writhing and self-flagellating. Nothing escapes the light-hearted mockery of Fran Espinosa and Patrice Thibaud in their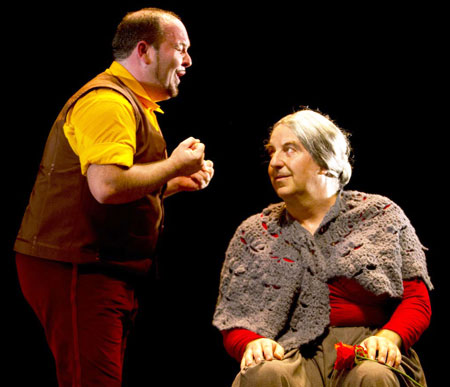 concoction of flamenco and burlesque, but their love of the prestigious art of flamenco  shines through. For Patrice Thibaud, his special relationship with flamenco began at the age of only two years old when he saw his first performance, and then later lived with a flamenco dancer.
His devastating humour illuminates this art he so admires and that Fran Espinosa so perfectly masters. Throughout the show, Patrice unexpectedly conjures up images of Pablo Picasso, Fernando Botero, Louis De Funès, Benny Hill, El Güito and Concha Piquer, not to mention Don Quixote. In one poignant and poetic moment, Franito transforms his snoozing mother into the Cervantes hero, with a strainer for helmet and  broom as lance. The essence of the show is found in this single scene that is both comical and emotional.
Patrice Thibaud has made his international reputation with COCORICO, his production that has toured across Europe and internationally including engagements at the Festival IberoAmericano de Bogota, the Festival de Mayo in Guadalajara Mexico, the Shanghai Comedy Festival, the Macau Arts Festival, the Chuncheon Mime Festival in Korea, the Taipei International Children's Festival and the London Mime Festival in the UK.   See Touring Calendar